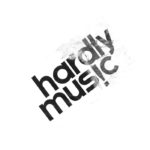 Back in 1980, my first label was called Hardly Music.  It was a collaborative effort between two members of The Last Four Digits, Dave Fulton and Steve Grigdesby, Brad Garton from Dow Jones and the Industrials, and myself.  In those days, there really weren't many indie labels, especially in Indiana, and only one dedicated to punk/new wave, Gulcher Records from Bloomington.
As punk and new wave exploded, it was clear that more labels were needed so we decided to take matters into our own hands and release records by our bands.
We succeeded in releasing a record from each of our bands, plus a 7″ by the Fulton/Garton project Observers Observers Observables and a 45 by Malcolm Tent and Unnatural Axe, a NYC act who was a friend of our friend Tony Philputt.
We didn't sell a lot of records but we did get our bands documented to a degree.  Because Fulton and Grigdesby operated Indy's Defoliant Sound Studio and Garton was a partner in Lafayette's Zounds Studio, there were a lot more recordings than ever saw the light of day.
For Record Store Day 2016, we partnered with Third Uncle Records and created a very limited (50 copies) box set containing six tracks on three lathe-cut 7″ records, all never before released on vinyl.  In addition to the original four Hardly Music bands (not including Malcolm Tent) we added tracks from the pre-Last Four Digits project Joint Chiefs of Staff and a band I was in, Red Square from Bloomington.
Our allotment of this box is sold out but you might try Third Uncle and see if they have any copies left.  Down the road, we plan to release a more complete Hardly Music compilation.